A column by George McNeilly
–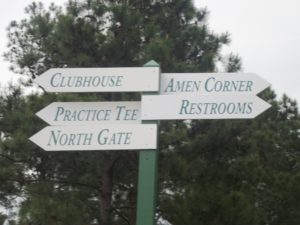 I've traveled all over the world covering sports as a network sportscaster and later a TV and marketing executive. We're talking over 30 years of coverage of prestigious events such as Super Bowls, NCAA Final Fours, MLB World Series, NBA Finals, All Star events, a FIFA World Cup, Indy 500s, Daytona 500s, Heavyweight Championship Boxing, and even the Olympics. Not to mention over 100 professional golf tournaments, including five majors.
It has been my honor to have worked for NBC and CBS Sports, ESPN and the Walt Disney Company, and some might say I know my way around sports business models and iconic brands. Upon my return flight home from The Masters, I could not resist beaming with enthusiasm to those around me that this venerable tournament on a majestic golf course is "a tradition like none other."  It's sense of refinement and grace can be seen in so many ways, and is a lasting tribute to memory of Mr. Robert Tyre Jones, Jr. and the membership over a long and fabled history.
As the playwright Oscar Wilde said "Nowadays people know the price of everything and the value of nothing".
Let's begin with the free patron parking. While ballparks continue to gouge across North America and theme parks have been increasing parking prices since the attempted hostile stock take overs in the early 1980s, The Masters continues to treat all patrons with gracious hospitality and sincerity.
In recent years, restaurants and amusement parks decided to offer large servings of food, that from a health standpoint we really don't need to consume, so they can charge much higher price points.  At Disney World, they called it business optimization and revenue management. Proponents call it capitalism. Critics might choose another description.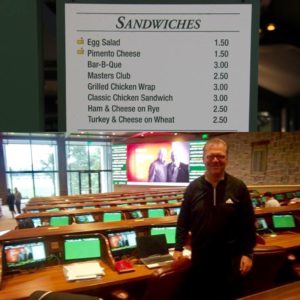 At Augusta, patrons can find appropriate and most ample portion sizes for extremely reasonable prices as low as one dollar snacks, $1.50 for a sandwich, and just $4 for a draft beer in a souvenir cup; these prices can be compared to $12 sandwiches and $16 alcohol in NBA arenas.
In 2017, the Tournament opened an incredible "press" building. I am not certain it was ever about the huge investment made in a high tech or "smart" facility that feels to me like a cross between the most beautiful convention center I've ever visited, and an antebellum home like Tara of "Gone with the Wind". For the people at Augusta National it's about placing a premium on the experience for all concerned, and enabling credible news sources to grow awareness for "a tradition like no other". As my friend Barry Cronin, who adeptly directs publicity for the John Deere Classic wrote, "it's more about how writers create legends".
A couple years ago, I was honored to be able to take my eldest son who could not get over how majestic the location was, even more impressive since he does not golf. A year later, it was my youngest son's turn.  On the morning of the opening round, I introduced my fledgling golfer to Sandy Lyle and other familiar faces from my travels. The patrons were lined up 15 deep to see Jordan Spieth tee off. A marshal came up from behind us and asked Michael if he would like a "better view".
I stood in amazement as my son was ushered in front of everyone to see his favorite sportsman while all the adults were asked to make room for my little boy. This was not some special accommodation for his Dad, and I made no effort to join him in the front. It was his moment. It's just another example of how the legacy of Bobby Jones lives on and through hundreds, if not thousands of local "ambassadors" who strive to make indelible memories for those fortunate enough to visit their pride and passion.
A friend recently told me that some members of the media are issued a sticker to be placed on their mobile phone so that they can make limited phone calls in designated areas. I said, thanks but no thank you. I am not on deadline, and am more than ok leaving my phone in the car for the day.
Augusta National, much like my house of worship, reminds me that it can all wait while I focus on what matters.
I always leave The Masters inspired to care better for "important" things while balancing a frenetic pace the rest of the year. Now if I can only stop checking email as I play a round of golf back home.